A Recipe to Beat the Houston Heat and Cure the Rain Blues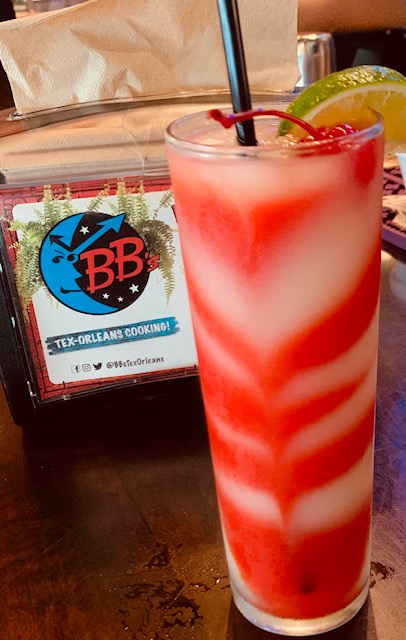 Houston is just so hot and humid this time of year, and what better way to cool down than with a delicious frozen cocktail? Here at BB's Tex-Orleans, we have some of the best frozen drinks in town! Hurricanes, various Margaritas and Texas Twisters! We love them all, but we love them even more during the BEST Happy Hour in Town, our Voodoo Half Hour. Most frozen drinks and much more at BB's Tex-Orleans are HALF PRICE Monday through Friday from 3pm to 6:30pm! You can't beat that deal, but you can definitely beat the heat of Houston in the Summer with one of these babies.
If you can't join us here for drinks, you can always come grab one of our frozen drinks or our pre made Wompus Cat Packs, our amazing Hurricane and take it to go. With a full gallon of our Hurricane mix, a 350ml bottle each of Bacardi Light and Bacardi Gold, 4 cups with lids and straws and a whole orange for garnish, you can bring BB's Tex-Orleans anywhere! Serve it over ice, or toss it in a blender with ice for your own Frozen Hurricanes. Maybe you'd like to make your own mix, and that's great too! Have rum but need a recipe for the Hurricane mix? We've got you covered! Here's a tasty recipe for you to use at home:
Ingredients:
1.5 cups Sugar
1.5 cups warm water
3 cups Orange Juice
3 cups Pineapple Juice
1 cup Lemon Juice
1 cup Grenadine
Red Food Coloring (optional)
Rum of your choice
Directions:
Mix warm water and sugar until dissolved. Add all the juices, Grenadine and food coloring (optional) and mix to combine.
This should make about a gallon of mix. Just add rum and ice and you're ready to go! For a Frozen Hurricane, throw it all in a blender with ice, blend it up, and ENJOY! Don't forget to tag us in your pics!
7/15/2021